Paving Stone & Excavating in Regina
Abstract Construction provides a wide variety of construction services for residential and commercial properties in Regina and nearby areas. From purely functional to decorative elements, our professional team can do it all.
Waterproofing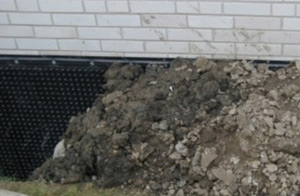 Abstract Construction provides waterproofing services during the construction process to protect several structural areas. This includes the siding and foundation. We waterproof the foundation by installing drain systems to move water away from the bottom of the foundation, treating the foundation walls to prevent moisture from seeping in through the wall, and treating the ground surface adjacent to the building to direct surface water away from that area as well.
Demolition
We provide building demolition for residential and commercial properties. Demolition is often required after a home or commercial building has been damaged by a storm or fire, or if the property is being repurposed. We use professional equipment to completely tear down the structure, clear away debris, and level the ground to prepare the property for rebuilding.
Lot Sanding
Abstract Construction also provides parking lot sanding, which is completed after clearing parking lots from heavy snow. It can also be done during heavy snowfalls to minimize icy and slippery conditions. Sanding creates an even asphalt surface and ensures entrances to the parking lot remain usable and safe even in extreme temperatures.
Leveling & Grading
Our excavation services include leveling and grading. Grading involves cutting dirt from a higher spot and using it to fill in a low spot, also known as cut and fill. Leveling includes preparing irrigation plots so that no high or low areas disturb the distribution of irrigation system water. From agricultural to municipal, rural to urban, our Regina construction company can provide this service to prepare any area of land for the next phase of construction.
Snow Removal
Our construction team also provides snow removal services to clear driveways, sidewalks, and residential roadways after a large snow storm. We use professional snow plows to clear large areas and clean up any remaining sections with shoveling if needed. We also put down rock salt to melt slippery areas of ice to ensure you can walk and drive around your property safely.
Wall Bracing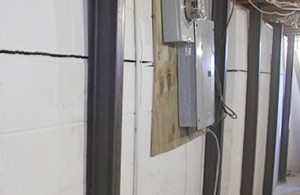 Wall bracing is also done to provide additional support for the wall studs. Wall studs alone cannot resist outside forces, especially those that occur during severe storms or with high winds. When wall bracing is done correctly, it can protect your home or commercial building from wind speeds up to 150 mph.
Basement Repairs
Basement repairs are also provided by our construction company in Regina. If you have cracks in your walls, leaks coming from the basement floor or ceiling, or you've noticed shifting of your walls or foundation, we can make any type of basement repair to restore your home's structural integrity
Concrete
Abstract Construction provides all types of concrete services. We install or repair driveways, sidewalks, patio slabs, parking lot areas, and residential roadways. We also build concrete foundations, floors, and walls for both residential and commercial properties.
Paving Stones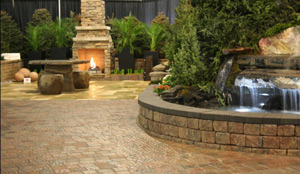 Our construction services in Regina also include installing paving stones. Paving stones can be used in patios, garden pathways, spa enclosures, retaining walls, and pool decks. From neutral colored, uniform pieces to multicolored, natural edge stone designs, the possibilities are endless.
Sump Pumps
We also install and repair sump pumps to keep your plumbing system working properly. Sump pumps play a major role in drainage of your waste water, so regular maintenance can prevent backups, and keep your basement dry. We also provide inspections to detect problems before they become serious issues.
Landscaping
Our construction company also provides several landscaping services. This includes lawn care such as grass cutting, fertilizing, and edging. We also design and create gardens, plant trees and flowers, and much more. We facilitate residential and commercial landscaping projects of any scope, from replacing one tree in an existing yard to fulfilling complete landscaping designs for newly acquired areas of land.
Sidewalk & Driveway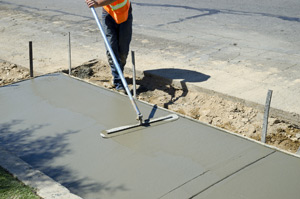 Abstract Construction also provides sidewalk and driveway paving for both newly developed properties and for renovations or repair work. From, short, narrow driveways to horse shoe driveways and service roads, we can meet the needs of any residential or commercial property.
Water Features
Our Regina construction company has water features available to enhance your backyard garden or commercial property. These include bird baths, waterfalls, ponds, fountains, and more, made with solid stone construction or stacked decorative rocks.